As an Health Care Professional (HCP), why should I join Pelvic Pain Matters webinars?
Good question. If you are reading this page, then pelvic pain clearly matters to you. We offer the only educational webinar series for patients and HCP's purely about pelvic pain matters. Each webinar aims to be engaging, thought provoking, inspiring, moving, personable, current and informative .All webinar participants will…
Receive practical, easy to implement guidance for treating pelvic pain patients.
Get HCP-focused take-homes for immediate implementation.
Be kept well informed with the latest research in pelvic pain.
Be provided with the most current knowledge of pelvic pain conditions.
Learn from a range of experts including researchers, pain management specialists, authors, physios, urologists and surgeons.
Have the opportunity to engage directly with the presenter, other HCPs and patients.
A broad and varied range of HCP's treat pelvic pain, from Urologists to physiotherapists, Nutritionists, Pain experts, Acupuncturists CBT and NLP practitioners to name a few. Our aim is to bring experts – that's you – and patients together under one complete webinar to push successful outcomes and recovery for pelvic pain sufferers. We want to change the future for pelvic pain patients
As a condition that impacts body and mind together, there is much to be gained from sessions where the experiences of both HCP's and patients are shared, explored and brought together. For a short video explaining why HCP's should sign up for the webinars
To sing up for our newsletter please email pelvicpainmatters@gmail.com
Meet the Pelvic Pain Matters team
Karl Monahan is a clinical therapist with 20 years' experience in sports and advanced clinical massage. As a former sufferer of chronic pelvic pain, Karl has dedicated the past 10 years to the study and successful treatment of the condition. He is the founder of the Pelvic Pain Clinic, which is solely dedicated to the treatment of male pelvic pain.
David Lowe is a London-based writer and editor, currently working for a leading facilities management company. He suffered with chronic pelvic pain for eight years before growing disillusioned with conventional treatment. The management techniques he learned at the Pelvic Pain Clinic in London mean David now lives his life pain free.
Upcoming Pelvic Pain Matters Events: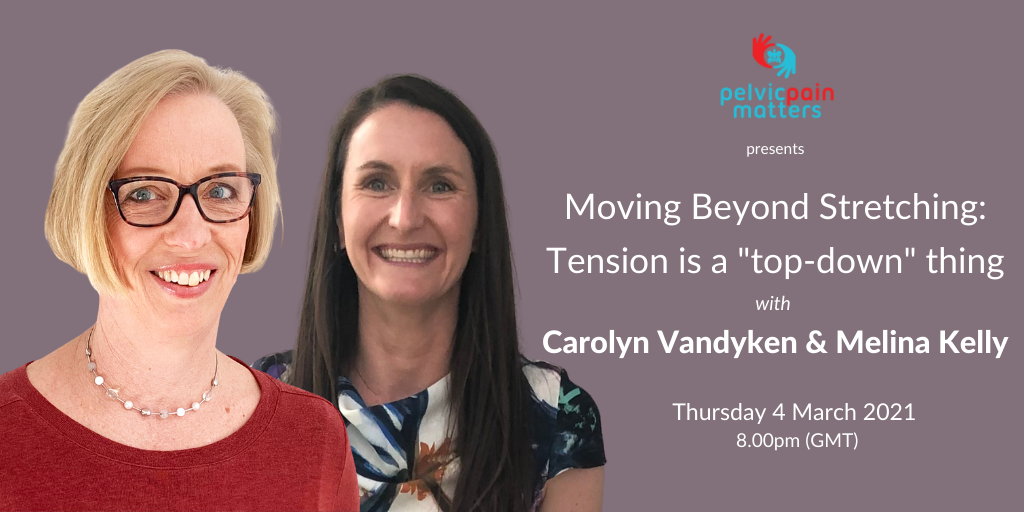 THURSDAY 4TH MARCH 2021 8PM GMT
MOVING BEYOND STRETCHING: TENSION IS A TOP-DOWN THING
Join our fourth Pelvic Pain Matters webinar featuring the highly-regarded pelvic pain expert and physiotherapist, Carolyn Vandyken, who will look at the treatment implications for Chronic Pelvic Pain (CPP) patients from findings in a ground-breaking, new patient study.
Carolyn will be joined by Melina Kelly from Curtin University, Perth, who was instrumental in developing and overseeing the study.
The study strongly suggests that that movement is key to pain reduction and how certain types of movement can change pain and tension in the pelvic region much more dramatically than stretching.
Join Carolyn to learn how novel, interesting movement strategies may be more effective at changing how we guard and hold tension in our pelvis, moving beyond stretching of tight muscles to a more effective CPP solution.
This webinar is for:
Pelvic pain patients of all genders
Family and friends of pelvic pain patients
Professionals who treat pelvic pain patients or have an interest in starting up their own pelvic pain practice
Why should pelvic pain patients attend?
Gain an appreciation of the role the central nervous system plays in persistent pain.
Become self-empowered to change your relationship with tension in the pelvic floor muscles.
Why should professionals attend?
Learn about a brand-new questionnaire to help identify the presence of sensory-motor changes in persistent pelvic pain.
Discover a novel approach to alleviate pelvic floor muscle tension based on sensory-motor change, creating a sustainable resolution for persons in pain.
The webinar will feature real-life stories of others who have overcome chronic pelvic pain. They will be discussing why talking about their pelvic pain was a key element in their recovery.
All participants will have a chance to pose questions to Carolyn and the panel in the live Q&A session at the end of the webinar.
If you are unable to attend the live event – don't worry. Simply buy your ticket and we will send you a recording of the session. You will not miss out!
For tickets click here as always there is over 40% OFF for patients, their loved ones and family members
Past Pelvic Pain Matters Events: