The Pelvis Uncensored: how to talk about the embarrassing stuff with Dr Sandy Hilton was the 3rd Pelvic Pain Matters Educational webinar for patients and clinicians with an interest in pelvic pain
Themes from The Pelvis Uncensored
Clear communication is paramount
People in pain and their clinicians are a team. Communicating not only the pain but its impact on your life will help towards a solution.
Be frank and speak up
Never shy away from words like penis, vagina, labia, urethra, rectum, scrotum, penetration, ejaculation: there is nothing to be ashamed of.
Pain is so much more than just pain
Living with pain impacts a whole life, diminishing pleasure, creating trauma and undermining identity. Never overlook its significance.
While dealing with pain, grant yourself pleasures, however small they may be.
Sandy's 'pleasure snacks' are a great place to start.
Patient and clinician share a dual role in recovery.
Patients – speak up and demand to be heard. Clinicians – be kind and listen.
Sandy Hilton, The Pelvis Uncensored: Why rude health depends on being frank
'You are an entire person who has thoughts and expectations, who lives in a world, and all of it matters.'
This text, taken from one of Sandy Hilton's Pelvic Pain Matters slides, is a perfect distillation of the message of her illuminating webinar.
For chronic pelvic pain sufferers that world may include achy penises, vaginas and balls, or even troublesome pee and poop habits one isn't apt to bring up in polite conversation.
But. All. Of. It. Matters.
With her engaging manner and obvious expertise as a healthcare practitioner with over 30 years' experience, Sandy revealed The Pelvis Uncensored, including guidance on how and why to talk about the embarrassing stuff for attendees.
She said: "What hurts, where it hurts and what it means to you is so important…Those of us on this side of pain need to remember pain has meaning. It changes your life and patients need to be able to share that meaning."
Sandy's no-nonsense approach highlighted the need for plain speaking with clinicians – even when it involves words like labia and testicle, urethra and rectum.
The frank naming of body parts and sharing of associated symptoms can contribute to a more successful resolution.
Sandy said: "If this professional in front of you looks embarrassed about your pain, it's not your job to make them feel more comfortable…It's important to create more comfort and tolerance around the pelvis, an area that really isn't talked about so much."
While Sandy took a well-deserved break, Pelvic Pain Matters founder, Karl Monahan, introduced the evening's panellists, CPP sufferer and founder of The Happy Pelvis blog, Michelle Milheiras, and CPP expert and physiotherapist, Bill Taylor, of Taylor Physiotherapy in Edinburgh.
For Michelle, who first encountered CPP at just 12, the problem of not being listened to resonated deeply.
She said: "I was told to get multiple STD tests, even when I wasn't sexually active. I feel I was faced with excuses and clinicians not really trying to find the root cause of the problem."
Bill reflected on the importance of a healthy patient-clinician relationship, where nothing is off limits.
He said: "We need practitioners and patients working side by side. Let's be honest, clear and say what we want to say. The patient's lived experience matters, and then everyone should work together to find the best way forward."
Sandy's return raised smiles when she introduced the idea of 'pleasure snacks': simple experiences, such as admiring a beautiful cloud, to be enjoyed throughout the day.
A dosage of six to seven snacks daily can impact the nervous system and really help against pain.
Sandy concluded by highlighting the importance of patients and HCPs collaborating.
She said: "Trust the person in pain. They have most of the answers we need. The magic is in them to help themselves get better."
Our thanks to Sandy, Michelle and Bill for a really enlightening session.
The Pelvis Uncensored: how to talk about the embarrassing stuff
Check out my interview with Dr Sandy Hilton here
Join us for the next Pelvic Pain Matters Educational Webinar on Thursday 4th March at 8pm GMT with Carolyn VanDyken.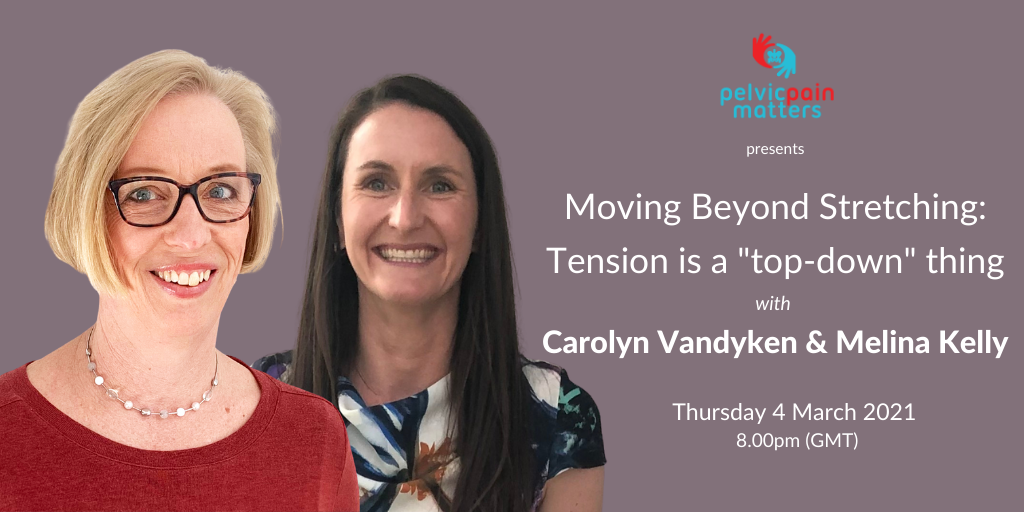 Moving Beyond Stretching: Tension is a Top-Down Thing
Join our fourth Pelvic Pain Matters webinar featuring the highly-regarded pelvic pain expert and physiotherapist, Carolyn Vandyken, who will look at the treatment implications for Chronic Pelvic Pain (CPP) patients from findings in a ground-breaking, new patient study.
Carolyn will be joined by Melina Kelly from Curtin University, Perth, who was instrumental in developing and overseeing the study.