With so many cases of male pelvic pain and Chronic Pelvic Pain Syndrome (CPPS) in the UK, we've put together this handy infographic to help you better understand the condition and its symptoms.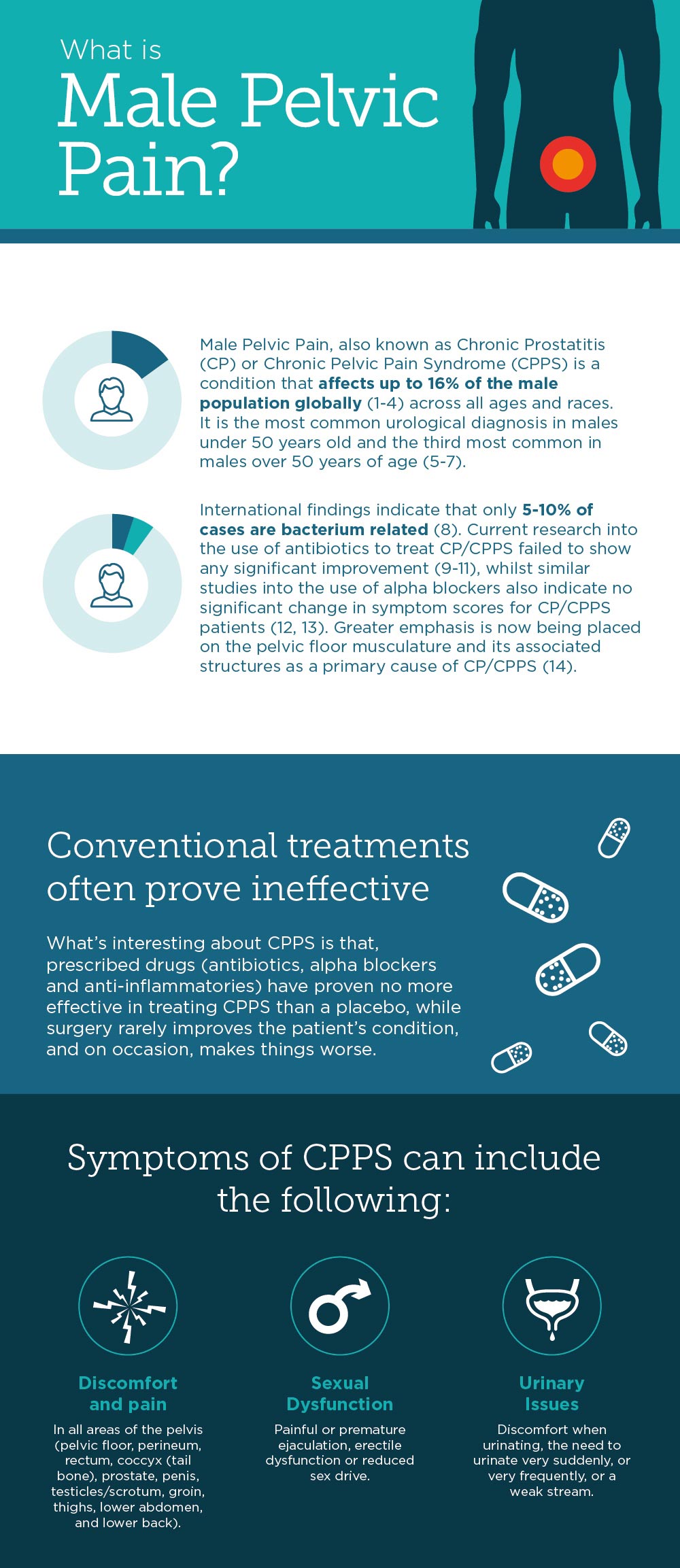 Infographic Transcription
Male pelvic pain, also known as Chronic Prostatitis (CP) or Chronic Pelvic Pain Syndrome (CPPS) is a condition that affects up to 16% of the male population globally (1-4), across all ages and races. It is the most common urological diagnosis in males under 50 years old and the third most common in males over 50 years of age (5-7).
International findings indicate that only 5-10% of cases are bacterium related. Current research into the use of antibiotics to treat CP/CPPS failed to show any significant improvement (9-11), whilst similar studies into the use of alpha blockers also indicate no significant change in symptom scores of CP/CPPS patients (12,13). Greater emphasis is now being places on the pelvic floor musculature and its associated structures as primary cause of CP/CPPS (14).
'Conventional treatments often prove ineffective.'
What's interesting about CPPS is that prescribed drugs (antibiotics, alpha blockers and anti-inflammatories) have proven no more effective in treating CPPS than a placebo, while surgery rarely improves the patient's condition, and on occasion, makes things worse.
Symptoms of CPPS can include the following:
Discomfort and pain- in all ages of the pelvis (pelvic floor, perineum, rectum, coccyx, penis, testicles/scrotum, groin, thighs, lower abdomen and lower back).
Sexual dysfunction- painful or premature ejaculation, erectile dysfunction or reduced sex drive.
Urinary issues- discomfort when urinating, the need to urinate very suddenly, or very frequently, or a weak stream.
How do I treat it?
As well as a number of pain management techniques and treatments, there are also exercises which are aimed to relax and assist in changing the tight holding patterns often found in the pelvic floor of males who suffer with CP/CPPS. By practicing these exercises daily, you will see an improvement in the severity of your symptoms and take back control of your condition.
If you are suffering from Male Pelvic Pain and would like to learn more about how you can relieve your symptoms, you can visit our Treatments page for more details or Contact Us directly for professional advice.
Share this Image On Your Site