Designed exclusively by The Pelvic Pain Clinic, we've put together an illustrated list of simple exercises to relieve male pelvic pain. The exercises aim to relax and assist in changing the tight holding patterns often found in the pelvic floor of males who suffer with CP/CPPS. Using specialist insights and help from our medical experts, we've determined that practicing these exercises daily in the comfort of your own home you can become the driver in your recovery, not just a passenger.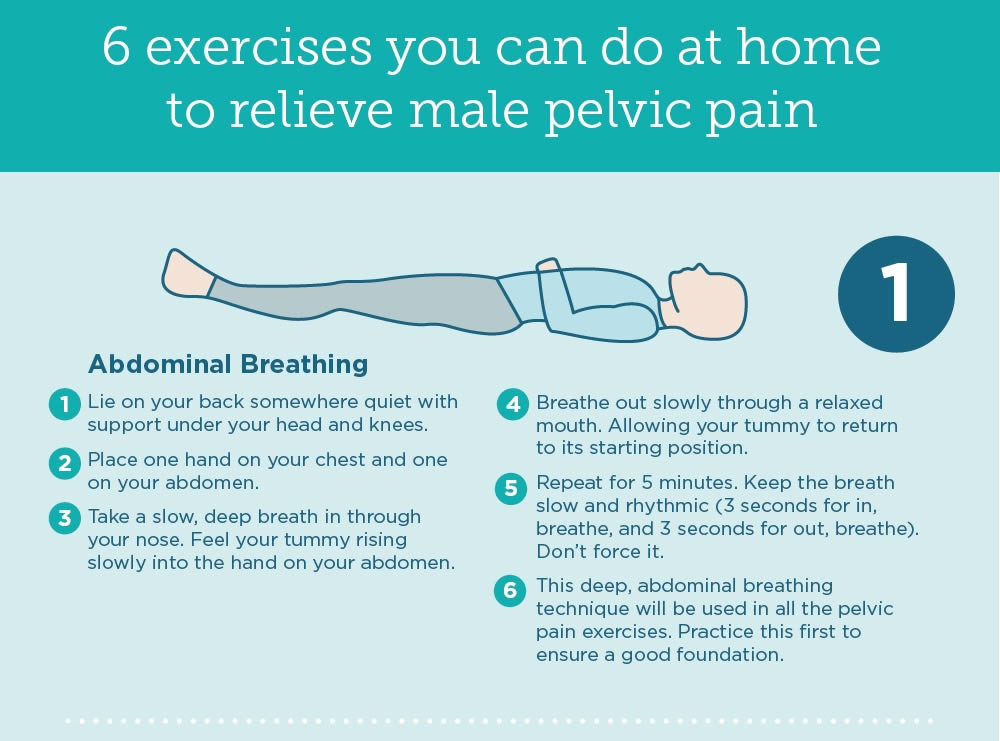 Abdominal Breathing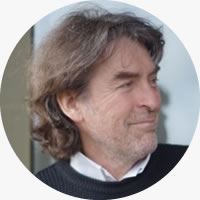 Bevis Nathan
is a specialist in pain and post-traumatic disorders, using Osteopathy, Somatic Experiencing, Breathing-and Affect-Retraining based in the UK; who agrees that abdominal breathing can drastically help to improve symptoms of CP and CPPS.
"Diaphragmatic breathing mimics deep sleep breathing, which promotes a relaxation response by various routes. The relaxation response as a whole will facilitate pelvic floor muscle relaxation as part of a global parasympathetic picture. Abdominal in-breath puts a gentle pressure on the pelvic floor that enhances one's ability to become aware of it. Dissociation – lack of awareness – from pelvic floor tissues is a common problem in pelvic pain syndromes.
Adductor Stretch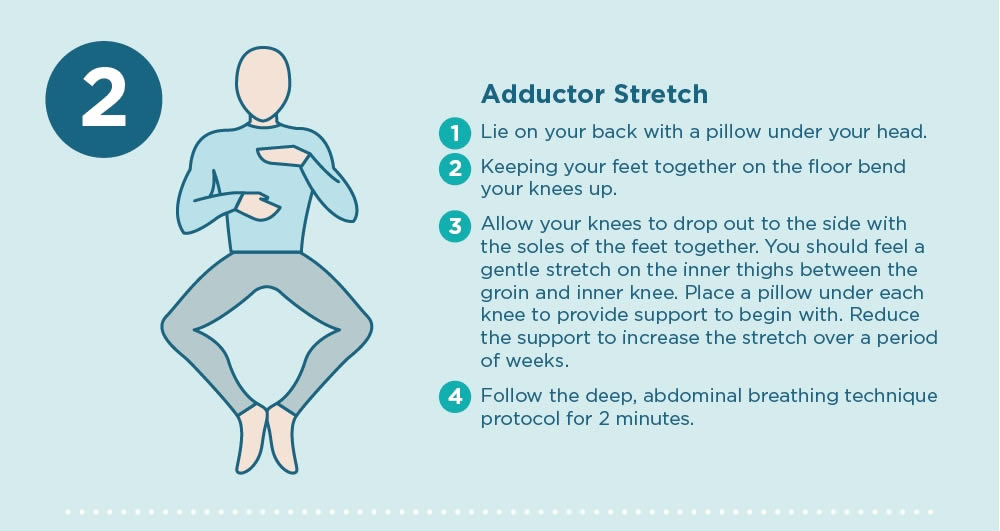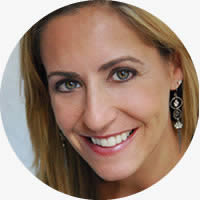 Amy Stein is the author of 'Heal Pelvic Pain'. She is the founder of Beyond Basics Physical Therapy in New York and is one of the founders of the Alliance for Pelvic Pain . Amy has a Masters and Doctorate in Physical Therapy and explains that the Adductor Stretch can help to relieve the pain caused by a direct and indirect pull into the pelvic floor.
"Trigger points and facial tightness in the hip adductors causes a direct and indirect pull into the pelvic floor and can increase symptoms of urinary frequently, urgency and the feeling of incomplete emptying. The adductor muscles can also contribute to groin and pelvic pain."
Lying Squats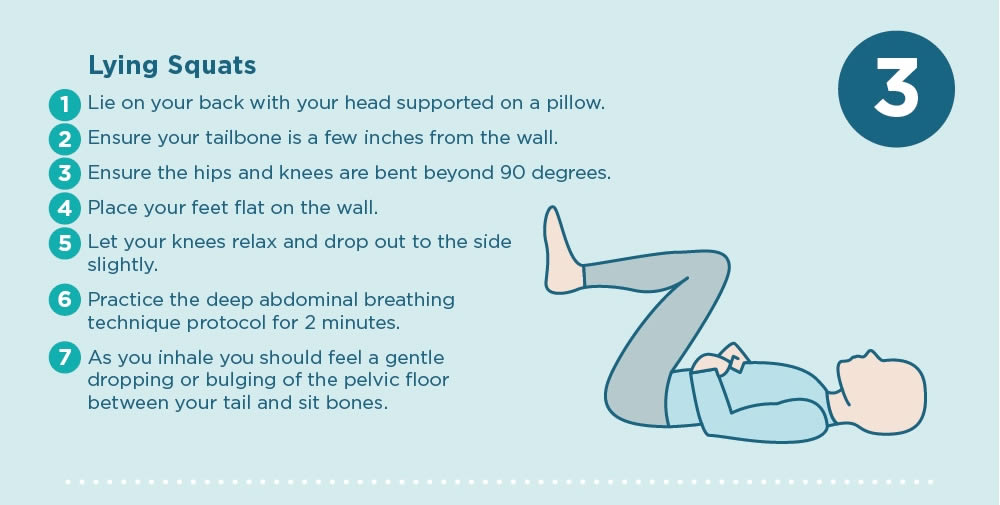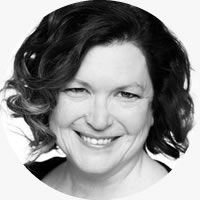 Sandy Hilton has a Master of Science in Physical Therapy and a Doctor of Physical Therapy degree. Her clinical interest is chronic pain with a particular interest in complex pelvic pain disorders for men and women. Sandy runs her practice from Chicago, Illinois and says that doing deep squats can help to keep the pelvic nerves healthy;
"Nerves, like muscles and skin, need movement and good circulation in order to get and to stay healthy. Keep the pelvic nerves healthy through deep squats. Coordinate with relaxed breathing and a sense of safety for improved confidence and function."
Reverse Kegals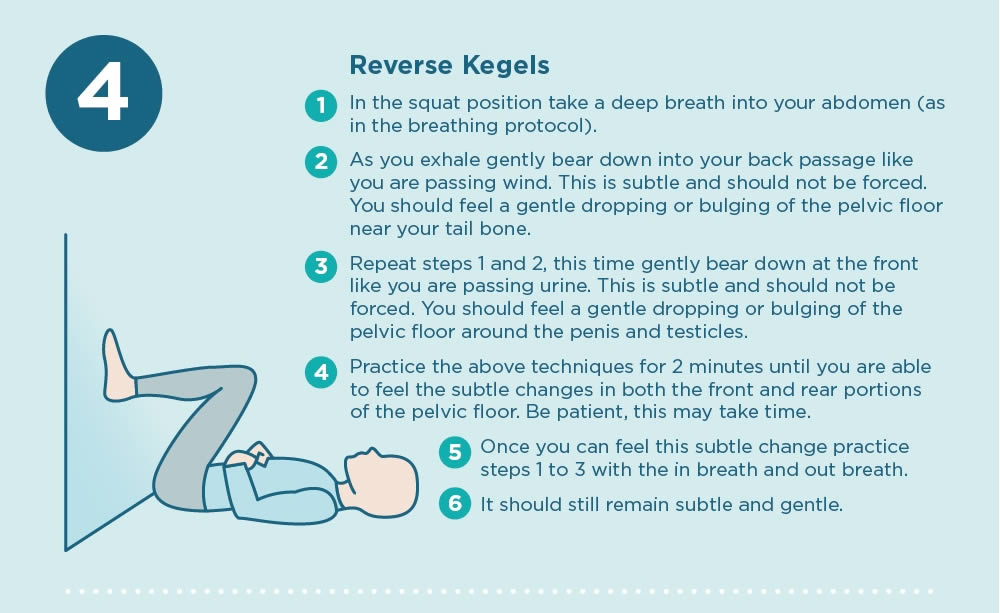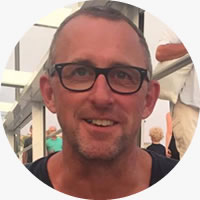 Bill Taylor is a Fellow of the Canadian Academy of Manipulative Therapy he hold's a Masters Degree in Physiotherapy from Queen Margaret University, Edinburgh. Over the past 15 years he has developed a special interest in the treatment of pelvic floor pain and dysfunction. He is the lead Physio at The Scottish Ballet and runs his practice from Edinburgh, Scotland. He says;
"Reverse Kegels or down training of the pelvic floor can be very helpful in the self treatment of CPPS. Relaxing your pelvic floor muscles is an essential component in recovery from pain and return to function. The keys to down training are visualisation and breathing control."
Pelvic Floor Stretch (PNF D2)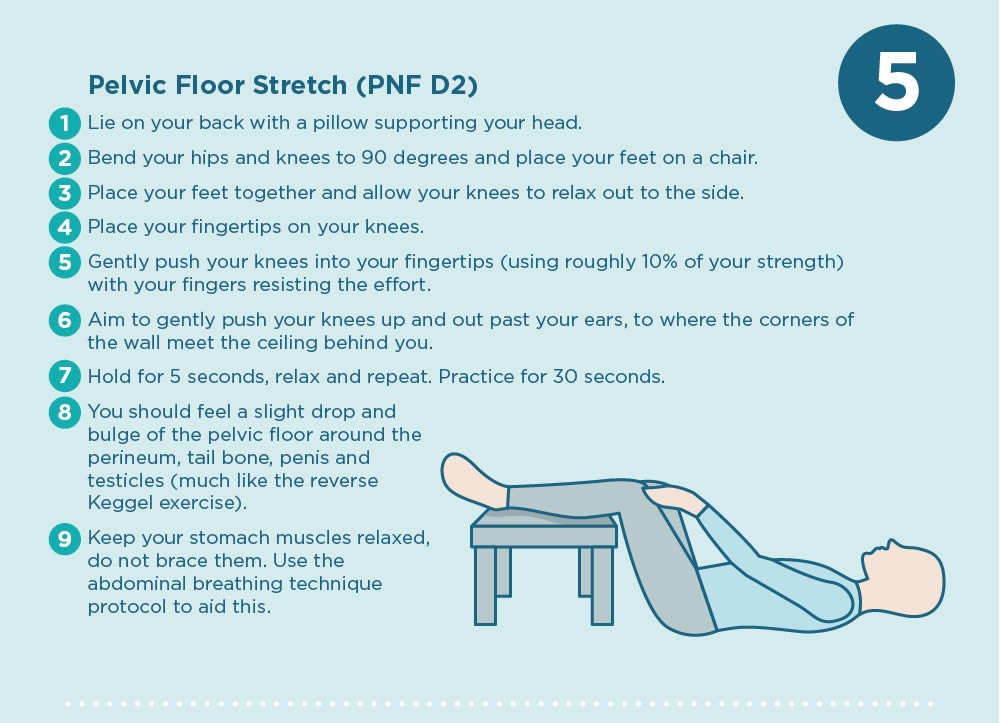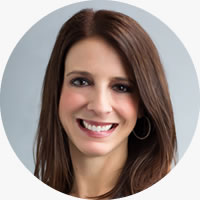 Stephanie Prendergast has a degree in exercise physiology and a master's in physical therapy. She is the co-author of the book 'Pelvic Pain Explained' and runs 5 Pelvic Health Rehabilitation Centres in San Francisco, Berkeley, Los Gatos, Los Angeles and Lexington, MA and says;
"PNF D2 is a helpful exercise to help people learn how to volitionally relax their pelvic floor muscles. It involves a neurologic principle called reciprocal inhibition. This means that activation of certain muscle groups will result in relaxation of others, in this case the pelvic floor muscles."
And finally…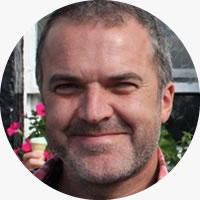 Dr Don Knox is a senior lecturer in Audio Technology at Glasgow Caledonian University. His main research interests include audio and music analysis and classification, music emotion, and music psychology, with a focus on developing multidisciplinary research into music technology for health and wellbeing.
"Listening to music can be an effective part of managing chronic pain. Studies show it can reduce perception of pain, anxiety and stress, improve pain tolerance levels, and result in a reduction of drug requirements. The 'most effective' music is generally positive, low arousal and bright. Music can distract the patient from persistent pain, increasing feelings of control and improving mood. "
________
By practicing the described exercises to relieve male pelvic pain daily you can help to improve your symptoms in the comfort of your own home. They can assist in building a solid foundation for the recovery from CP/CPPS and its associated symptoms. If any of these exercises recreate pain or any of your symptoms it is essential that you stop and seek professional advice. Each presenting case is unique and specific to the individual, you should therefore have the guidance and assistance of a qualified and experienced therapist to ensure a safe recovery.
If you are suffering from Male Pelvic Pain and would like to learn more about how you can relieve your symptoms, you can visit our Treatments page for more details or Contact Us directly for professional advice.
Share the Pelvic Pain Exercises On Your Site

6 Exercises to Relieve Male Pelvic Pain